Home
> Chapters

Chapters
Part I: Antibiotic resistance - Local scenario
1.2 Methicillin-resistant Staphylococcus aureus (MRSA)
Due to the alteration of penicillin binding protein, MRSA are resistant to penicillins (including oxacillin, cloxacillin and flucloxacillin), ß-lactam/ß-lactamase inhibitor combinations, cephalosporins, and carbapenems. Only the new anti-MRSA ß-lactams (e.g. ceftaroline) retain activity against MRSA. However, in vitro and in vivo reduced susceptibility to ceftaroline has recently been reported (8–9).
MRSA has been categorised into healthcare-associated (HA-MRSA) and community-associated (CA-MRSA). The Centers for Disease Control and Prevention (CDC) classification, which is the most widely accepted, classified HA-MRSA and CA-MRSA epidemiologically (10). However the border between the two is becoming blurred and surveillance using epidemiological criteria alone has become insufficient.
1.2.1 Healthcare-associated methicillin-resistant Staphylococcus aureus (HA-MRSA)
1.2.2 Community-associated methicillin-resistant Staphylococcus aureus (CA-MRSA)
Figure 1.1 Number of CA-MRSA reported to the CHP from 2007–2016.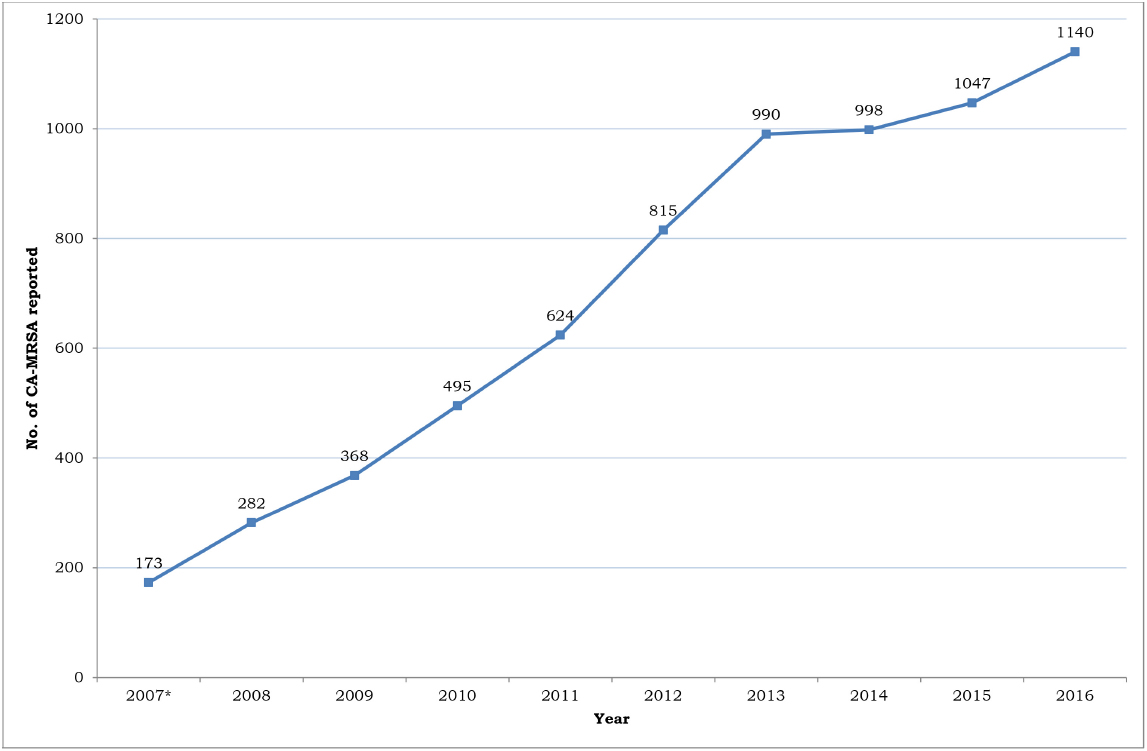 * Notifiable since 5 January 2007