Home
> Antibiograms

Antibiograms
Hong Kong East Cluster
Table HKE-1. Antibiogram for common bacterial isolates, Hong Kong East Cluster Hospitals, 2020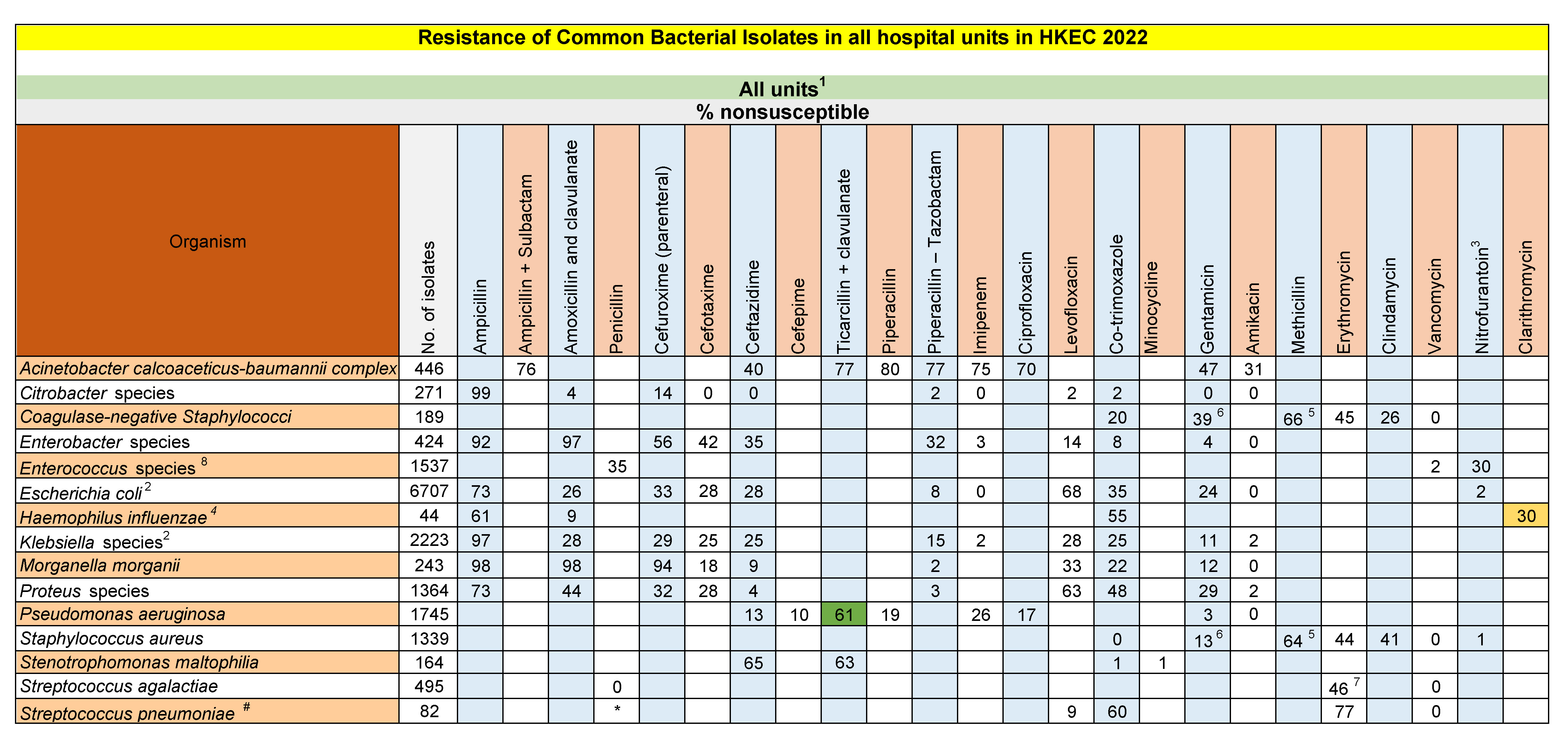 Non-duplicate isolates from blood, urine and respiratory specimens. Interpreted according to CLSI. Nonsusceptible include both intermediate and resistant.
Overall prevalence of extended-spectrum beta-lactamases (ESBL) were 27% for E. coli, 13% for Klebsiella species.
NB: For severe infection caused by ESBL-producing organisms, ERTAPENEM, IMIPENEM and MEROPENEM are drug of choice for treatment
Nitrofurantoin: Susceptibility rate in urine isolates only.
Non-duplicate isolates from respiratory specimens only.
Methicillin-resistant staphylococci are resistant to all available beta-lactam antibiotics in PYNEH drug formulary, except CEFTAROLINE.
GENTAMICIN is used only in combination with other active agents that test susceptible for staphylococcal infection.
Test performed on non-urine isolates only.
Enterococcus species: In general, susceptibility to AMPICILLIN can be used to perdict susceptibility to these antibiotics:
Amoxicillin-clavulanate (AUGMENTIN)
Ampicillin-sulbactam (UNASYN)
Piperacillin-tazobactam (TAZOCIN)
, indicate 10% or more reduction in nonsusceptible rate compared to 2019.
, indicate 10% or more increase in nonsusceptible rate compared to 2019.
* At meningitis MIC breakpoints, 34% was penicillin-susceptible and 66% was penicillin-resistant. At non-meningitis MIC breakpoints, 58%, 32% and 10% were penicillin-susceptible, - intermediate and - resistant, respectively. In S.pneumoniae, resistance to azithromycin & clarithromycin can be predicted by testing erythromycin.